Benjamin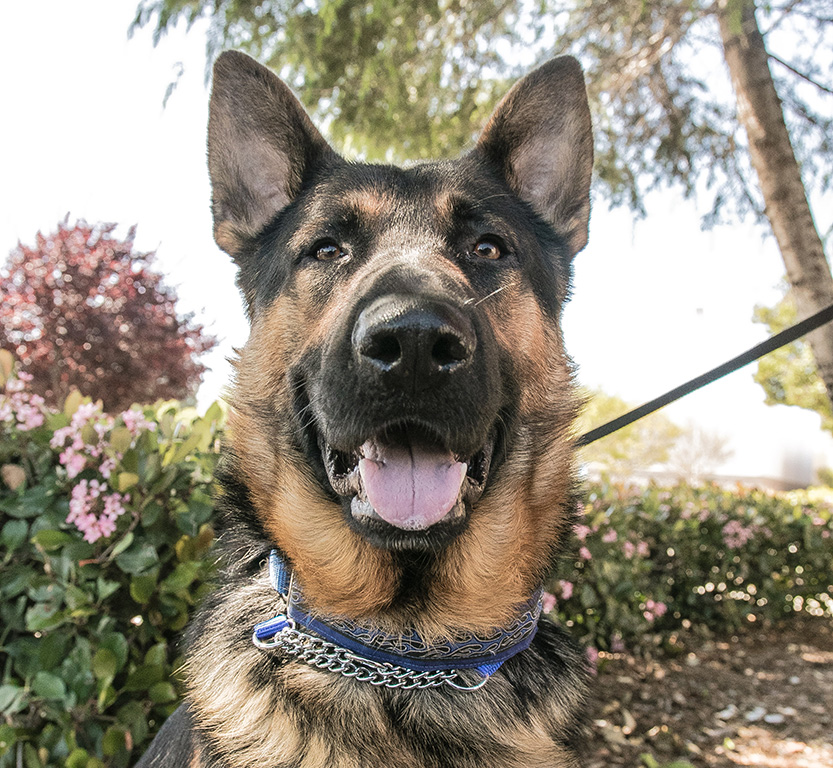 Gender: Male

Age: 18 months

Level: 2.5 (View level descriptions)

Status: Adoption Pending
Ben is a very stable German boy of about 14 months. He's about 80 pounds with a black and dark tan dry thick coat. Ben immediately proved trustworthy in the house and is not crated at night or during the day. He can be alone inside or outside, but he prefers the company of other dogs and people; he's very social. Dogs are his preference if they are around, but if no other dogs are around, Ben is extremely people affectionate and will sit still until people are done doting on him. He's very people friendly, having met elderly folks and children as young as a year, to which Ben delicately touched the toddler's face. He recently became besties with a 6 year old very dog savvy child; they were an instant pair.
We tested Ben in a neutral setting with numerous large and small dogs. He was immediately friendly with all; however, we saw that Ben became more and more interested in small dogs, and he saw them as prey. (He should not live with small dogs, cats and other house critters.). Another observation when Ben met all these dogs was that he was a tad scared if dogs began chasing him; he would tuck his tail and run. Ben is a very sweet guy; he's no Rin Tin Tin guard dog. :)
Ben has a very gentle nature about him. He's a 'soft' dog, meaning he doesn't need to be spoken to harshly, and harsh handling is completely unnecessary for him. He will best learn, and be happiest, with a gentle natured person/family. He wants to do the right thing and just needs the right guidance to become a confident young man. Because of Ben's love for people and dogs, we are looking for a family who can provide during-the-day enrichment, training and walks, and preferably a home with another playful dog.
Ben has a neuter appointment in a few weeks; in the meantime, he will be hanging out with some other friendly German Shepherds at his foster mom's house in Castro Valley. If you think you can provide a nurturing home and have a dog who misses having a pal, send Ben a message!
Adoption Fee includes spay or neuter, vaccinations including rabies, worming, microchip, and a collar.
Click here to read our adoption process and fill out our adoption questionnaire.
We can help more dogs if we have more volunteers. If you can help in any way, please contact us.
Click on the photos to see larger versions of our dogs.